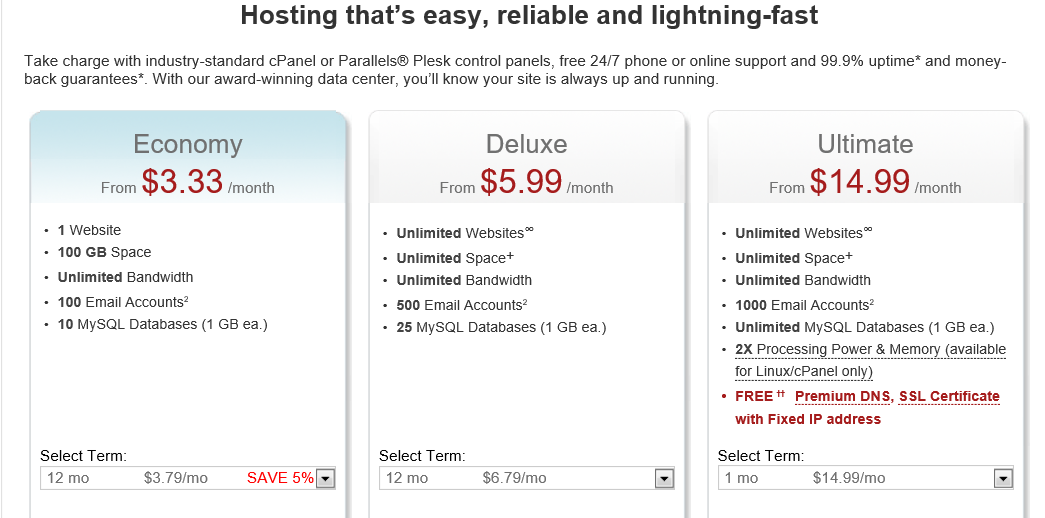 Free Domain Name Registration
Free Domain Names One FREE .COM, .CO, .NET or .ORG with purchase of a new 12-, 24- or 36-month web hosting, quick shopping cart, or website builder plan. Plus ICANN fee of 18¢ per domain name per year. You must add the domain name into your cart before purchase, and you must select a domain term length equal to or less than the term length of your product plan to qualify for the free domain offer. If you purchase a domain name for a term longer than the term of the product plan, you will be charged for the additional registration term at the then-current rate. Cannot be used in conjunction with any other offer, sale, discount or promotion. Free domain offer applies only to the initial purchase term. After the initial purchase term, domains purchased through this offer will renew at the then-current renewal price.
We have been online since 2001, and we are among the oldest web hosting providers. At Powerhoster.com – We provide Cheap Domain Registration, and Cheap Domain Hosting Services. We develop, run, maintain and support our Linux and Windows domain hosting plans in our own facilities, 24/7. We are the safest, most reliable and affordable domain hosting. Our web hosting plans are the cheapest, our management team is one of the most professional teams and our support teams are the most effective. We have all the features you can imagine and need; WordPress, Website Builder, Quick Shopping Cart, SSL, Email, Database and Blogging, just to name a few. No other web hosting service can match the width and depth of our feature set, which is one of the reasons why we are such a prominent player in the industry. We provide the cheapest Cloud Web Hosting, the cheapest Linux Cpanel web hosting, Unlimited Window Plesk hosting and the cheapest Domain Registration service.
A domain name is an identification string that defines a realm of administrative autonomy, authority or control within the Internet. Domain names are formed by the rules and procedures of the Domain Name System (DNS). Any name registered in the DNS is a domain name and are used in various networking contexts and application-specific naming and addressing purposes. For more information about domain names, please check here. Domain Names work by linking with a DNS ( Domain Name Servers), The DNS searches for the root DNS and local DNS to find the best way to your domain name. If you want to see how domain name work, please click here.
When you have a domain name, you can promote your local business, you can protect your trademark, you can also earn money by selling customer products, and you can even earn money from online domain name and websites. We are especially good at helping our customer earn money online and helping you sell products via online domain names and websites. We have search engine optimization tools to help you get your desired results. We even provide free web hosting if you use our shopping carts features and website builder service. And as a bonus, you can get free domain names when you order one year virtual web hosting, wordpress hosting, website builder and other packages on our plans list.
You can Register, Renew, and Transfer your Cheap Domain Names, as well as domain back ordering, registering domain privacy and businesses, and sitelocking here. You can also buy Dedicated IPs, Website builder, reliable wordpress hosting with thousands of free themes to chose and free plugins. You can register almost all kinds of TLDs domain here. We can register up to 600 TLDs. And YES, we are the cheapest domain registration service provider.
You can find The Cheapest Linux Dedicated Server, virtual private server hosting, the cheapest window dedicated server, window VPS hosting here; You can also do Domain Name Search, DOmain WHois search, and search for expired domains with traffic and returned click here. We are Cheap Domain Register and Website Hosting provider. We provide Windows 2008 and Windows 2012 dedicated Hosting, Cheap Web Hosting, VPS Hosting, Windows Server, CentOS 6, CentOS 7, Fedora, Ubuntu linux server, the cheapest Domain Registration services.
We provide you with Cloud Web Hosting service. Compared with Shared Hosting, Cloud web hosting offers increased availability and scalability. Unlike Shared Hosting which can only handle a limited amount of traffic before crashing, Cloud Web Hosting responds to traffic spikes by adding additional resources to your site, keeping your site live regardless of traffic.
You may hear that a lot of web hosting providers can provide you with unlimited web hosting but they are lying. They WILL ask you move your account away when your traffic reaches some limited amount. Powerhoster.com gives you unlimited web hosting service if our economy and deluxe plans are not suitable for you.
We are sure the Best Cloud Hosting around. We know how to balance the server load when the server needs more RAM and maxes out CPU speed. Our file manager, domain manager and database manager are all the latest in the industry. Our online file managers are very flexible, although it does not do everything for you, it is extremely appealing to the eye and is equipped with more than enough features.
We are professionals at helping beginners set up their website easily and offer additional site creation tools for advanced developers. All of our solutions support several programming languages, including CGI (Python and Ruby), PHP, Perl, ASP, MySQL, ColdFusion and FrontPage extensions.
We also provide Email Hosting for your email accounts. Your email account will be fast, ultra-reliable and protected from fraud, spam and viruses. It's POP3 configured and advertising-free. It offers unique you@YourPersonalDomain.com personalization. It allows you to send and receive email using popular email clients and mobile devices like Microsoft Outlook, Outlook Express, Blackberry and more. We also offer other email-plus products such as: Express Email marketing, Email fax, fax to email, fax through email service, Online file folder, online storage and Online calendar, make group calendar. These products will help you to upgrade your email account to the next level of email hosting services.
We also provide WebSite Builder with free web hosting and free domain name – with more than 1,000 easy-to-use templates – you can build your own Web site even if you have no knowledge of html or Window and Linux code experience. It is especially useful for white neck webmasters who want to manage their websites themselves. It can easily be scale-able from family picture storage show and tells to local and/or online businesses. Just open your Internet browser, select your images and type your text. Just like that, your site gets built or updated. Plus, you can now associate your Quick Shopping Cart sites to create a dynamic Web site that features a complete Internet store.
We also provide Premium SSL certificate, SiteLock Malware Spam, and Code and Driver Signing Certificates. Search Engines and Online visitors are getting smart about online security. They prefer to see the SiteLock icon and "https" prefix in the address bar of their browser before submitting personal information online. If your Web site doesn't have an SSL Certificate, visitors may leave before making a purchase, creating an account or even signing up for a newsletter. But you can change all that with a simple SSL certificate from PowerHoster.
Cheap Window Server and Cheap Window Linux Dedicated servers
We provide Windows 2008, Windows 2012 servers with root access, plesk control panel, From data warehousing to business intelligence, nothing matches Microsoft SQL Server's capabilities. Unlimited number for websites. Includes CDN/WAF. Servor Monitoring, Backups and Restores support. Keep your data looking good with disk mirroring Maximize performance and protect your data with complete RAID 1 disk mirroring.
We have a wide range of useful help and support options available, which are accessible at any hour of any day. The FAQs section contain a wealth of knowledge for beginners and advanced users. You can also contact Our customer service representatives on the phone or via email. This website hosting service is a large company, managing millions of domains for millions of users. However, our support team is quick to respond, and the expected response time for emails is typically within 5 hours, and no more than 20 minutes for telephone support