Linux Hosting Plan - All are Cloud Hosting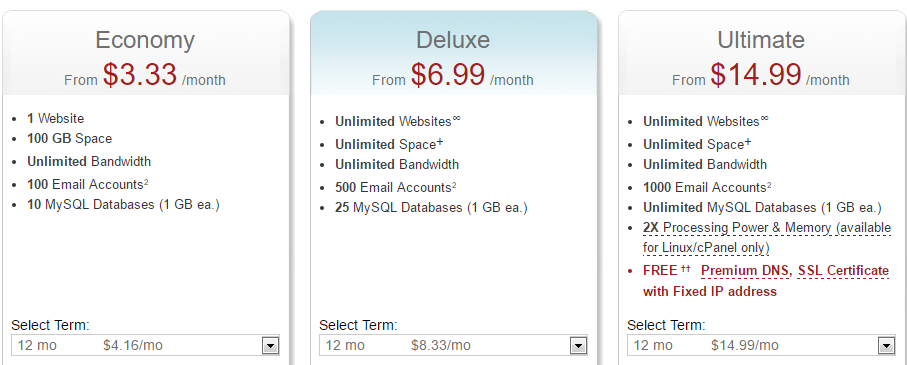 Linux Cpanel Hosting (Cloud Hosting)
Hosting Plan
Economy
Deluxe
Premium
Space
100GB
Unlimited
Unlimited
Bandwidth
Unlimited
Unlimited
Unlimited
Emails
100
500
1000
FTP
50
50
50
Databases
10
25
Unlimited
Websites
Unlimited
Unlimited
Unlimited
Subdomains
25
400
400
SSH
24/7 Phone/Email Support
Free Malware Scanner
Free SSL Certificate ( with Free IP )
Premium DNS
FTPs
Free Softwares
52
52
52
Language Support
PHP5, Custom PHP.ini/PHP5.ini, Perl w/FASTCGI, Python CGI, Ruby CGI, Ruby on Rails w/FASTCGI
Month Fee (USD/Mo)
$3.33
$6.99
$14.99
If you need an affordable, reliable place to host your site -- with live, 24/7 support by expert staff who understand you -- you've come to the right place. We provide window web hosting, Linux web hosting, Domain Hosting, image hosting, content hosting, unlimited bandwidth, huge traffic hosting, Game Hosting.
Three E Technology Ltd - domain and web hosting provider takes the uncertainty out of hosting - and puts service, performance and value back in. No matter which hosting type or plan you choose, your site receives 24/7 maintenance and protection in our world-class data center. And you get the expert, friendly service you deserve.
All the hosting packages include following features:
FREE 24x7 rapid account setup
24x7 email, telephone, and Web-based tech support
FREE 24x7 monitoring
Best-of-breed routers, firewalls & servers
24x7 onsite physical security
Secure SSL Certificates (optional extra)
Web site statistics
Best-of-breed routers, firewalls and servers
Daily Backups
If you need more features, or more web space. Please check our Virtual Dedicated Server , Dedicated Server .
If you need dedicated IP, please click Dedicated IP Service
---
For All our virtual Linux web hosting account:
Preinstalled Applications
All of these applications are included with your hosting plan. There's no need to install or activate these components. You can use them as soon as your hosting account is set up.
ImageMagick is a powerful set of image manipulation utilities that you can access through your code to create, edit, and compose bitmap images.
Add-On Applications
Are you looking for more complete Web applications to enhance your Web site? These applications make it easy to configure and add functionality to your Web pages. Setup is a snap. You can use our hosting tools to automatically install and set up these add-on applications.
Set up a Blog

Nucleus lets you set up and maintain multiple blogs. It supports multiple languages and includes a commenting system and search feature.
Geeklog is a feature-rich PHP/MySQL blogging tool that you can use to set up and manage a fully functional dynamic Web site.

pLog

pLog is an advanced PHP/MySQL blogging platform built around a powerful and highly customizable template system.
Serendipity is PHP/MySQL blogging tool that you can use to create a dynamic Web site. Serendipity includes an easy-to-use WYSIWIG editing interface.
WordPress is a semantic personal publishing platform with a focus on aesthetics, web standards, and usability. It supports multiple users, categories, comments, bookmarklets, RSS syndication, several APIs, and weblogs.com ping, among other features.

Share Images

Gallery is the next generation of open source photo sharing Web applications. Gallery gives you an intuitive way to blend photo management seamlessly into your own Web site whether you're running a small personal site or a large community site. Hundreds of thousands of people and organizations are using Gallery to create personalized photo albums on their Web sites.
You can use Coppermine Photo Gallery to arrange pictures in categories and albums, create thumbnails, search for pictures, and view image slideshows.
4images is a web-based image gallery management system. Visitors can register and post comments about pictures in your gallery.

Build Dynamic Web Sites

Joomla! is an award-winning Content Management System (CMS) that will help you build Web sites and other powerful online applications. A simple, browser-based interface helps you easily add new press releases or news items, manage staff pages, job listings, product images, and create an unlimited amount of sections or content pages on your site.
Mambo lets you easily edit, publish and manage web site content through an intuitive WYSIWYG interface. It makes Web publishing easy.
You can use Xoops to dynamic Web sites, such as community Web sites, intra-company portals, corporate portals, and blogs.
PostNuke is a versatile content management system that you can use to set up and manage a dynamic Web site.

Play Games

WWW Paint Board is a dynamic painting tool that allows users to draw pictures online using Vector Markup Language (VML) technology.

Magnetik Poetry

Using Magnetik Poetry, your Web site visitors can create "drag-and-drop" prose and poetry from more than 200 words.

Create an Online Community

PHPOpenChat is a high performance php-based chat server software for a live chat-room or -module on every php-based site. PHPOpenChat offers multi-language support, an unlimited number of channels, private channels, moderation, password protection, user groups and much more.
AzDGDatingLite is one of the many free add-on applications that we offer with our Linux hosting accounts. AzDGDatingLite is a PHP/MySQL tool that you can use to design a multi-language dating site.
Advanced Guestbook is a feature-rich PHP script that you can use to add a guestbook to your Web site.
Simple Machines Forum is an advanced community software package that enables users to set up and manage online forums. Program features include smiley and avatar management, secure file attachments, and an automatic mod installation system that allows upgrades and modifications to be downloaded and installed with just a few mouse clicks.
Use Advanced Poll to create, place, and manage a polling system on your Web site.
phpCollab is an online collaboration workspace where teams can manage their projects and share files.
SiteBar is a multi-user, multi-group bookmark server that lets you view, add, import, and maintain bookmarks from any Internet-connected computer.
Aardvark Topsites is an advanced PHP script that you can use to create a list of Web pages that users can access and rank.
Create and manage a database of files for download on your Web site.

Additional Applications

phpMyFAQ is a multilingual, database-driven FAQ-management system that you can use to create and manage an FAQ on your Web site.
Noah' Classifieds is a PHP-based general-purpose application that allows you upload, run and manage classified ads online.
The Open Media Lending Database (OpenDB) is a PHP/MySQL inventory application that allows you to easily catalog DVDs, VCDs, CDs, VHS tapes, games, books, and laser discs.
---
powerhoster.com provides Linux web hosting, Domain Hosting, image hosting, content hosting, the cheapest bandwidth, huge traffic at the lowest price